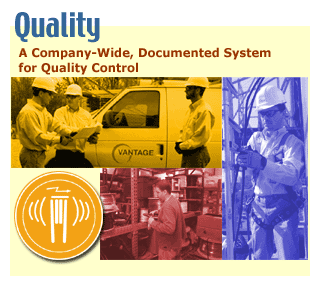 Skilled in multiple technologies, the Vantage project managers, engineers, technicians and installers deliver the services that allow our customers to realize their strategies and achieve their technological and business goals.
We clearly recognize that this level of service cannot be achieved and maintained without a stringent control.
The Vantage quality control system addresses all aspects of our business, from contract receipt to billing. Each employee has a defined and documented role in fulfilling our corporate quality objectives.
All projects have a documented set of procedures, goals and standards. This includes processes to identify all pre-construction activities, as well as the steps necessary to insure a successful completion.
We continuously review our projects and procedures to insure that our implementations are meeting the goals of the customer and our company. This focus on continuous quality improvement is what distinguishes us in the industry.
The Vantage organization has a solid understanding of what it takes to guide a customer's project from concept to completion: a clearly focused, committed view and attention to cost and detail.
Our proven track record has resulted in a reputation for completing complex and tightly scheduled projects on time, with optimum quality and within budget.