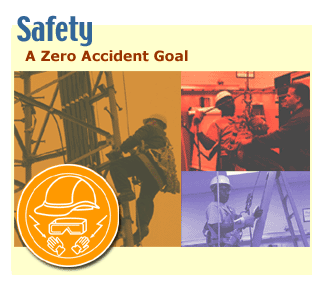 Vantage personnel are thoroughly educated in the need for performing work in a safe and healthy manner. The goal we set for our employees and the policy implemented for our customers is one of zero accident tolerance. We design our safety and project plans with this standard in mind. Our high emphasis on safety benefits our employees and customers alike.

Vantage's safety program includes project specific safety issues, continuing OSHA compliance education, general health and safety awareness, as well as, accident prevention training. Before being assigned to a project, all employees must successfully demonstrate a thorough understanding of the safety and hazard issues of the project.

Every new project includes a Safety Assessment to insure that processes and procedures are evaluated and measured from a safety perspective. As new issues are identified, our safety team develops and implements procedures to minimize the impact of these items.

In short, safety is at the core of our work ethic, not an adjunct to it.
---
As an indication of the thoroughness of our Safety policies and procedures, below is the Table of Contents from our Corporate Safety Overview:
Environmental, Health, and Safety Plan


All Employees
Medical
Hazard Management
Notification of Hazards
Emergency Procedures
Safety and Health Procedures


Emergency Response Procedure


Personal Protection Equipment


Head Protection
Eye Protection
Hearing Protection
Hand Protection
Foot Protection


Electro-Magnetic and Radio Frequency Emission Safety Requirements


Fall Protection


Required Hardware
Rigging


General Safe Work Practices


Purpose
General Responsibilities
Incident Reporting
Vehicle Operation
Seat Belts
Horseplay
General Dress Requirements
Work Area Designation
Employee Information and Training
Housekeeping
Trench Operations
Tools and Equipment:
Hand, Air, and Electrical Tools
Electrical Safety
Electrical Equipment and Activities
Welding/Gas and Electric
Ladders
Cranes and Material Handling
Fire Prevention And Protection


Training


Environmental, Health, Safety Orientation
Toolbox Safety Meetings
Project Meetings